Проблемы преподавания русской литературы в иракской аудитории Problems of Teaching Russian Literature to Iraqi College Students
Yaseen Hamza Abbas

University of Baghdad, College of languages, Department of Russian Language

Ikram Rzuki Taha

University of Baghdad, College of languages, Department of Russian Language
Keywords:
:. Ирак, русская литература, литературоведение, преподавание литературы, русский язык ., Iraq, Russian literature, theory of literature, teaching literature, Russian language
Abstract
Аннотация
    в статье рассматриваются проблемы преподавания русской литературы в иракской аудитории.. Использование литературы в преподавании иностранного языка, как правило, имеет две цели. Первая-чисто лингвистическая .. Вторая цель, однако, ассоциируется больше с экстралингвистикой  и представляет собой ознакомление студентов с различными аспектами русской жизни, культуры, мировоззрения, менталитета и культурного наследия русского народа.Однако наши преподаватели  не очень тщательно осозноют этого  вопроса. Поэтому мы считаем, что процесс использования литературы на нашей кафедре по-прежнему нуждается в оптимизации и пересмотре методов, учебных программ и  источников .
Abstract
This paper discusses the problems of teaching Russian literature to Iraqi College students. The use of literature in teaching a foreign language generally has two purposes:  the first is purely linguistic, and the second, however, is not associated with linguistic  issues but tries to make the students acquainted with various aspects of Russian life, culture, worldview, mentality, and cultural heritage of the Russian life. However, our teachers do not pay attention to this question. Therefore, we believe that the process of using   literature in our department is still in need of optimization  and revision of methods and curricula sources.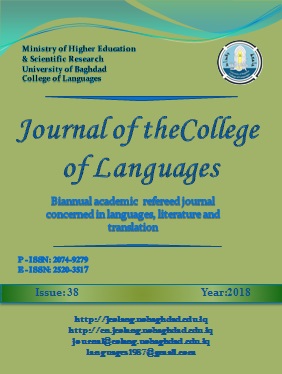 How to Cite
Abbas, Y., & Taha, I. (2018). Проблемы преподавания русской литературы в иракской аудитории Problems of Teaching Russian Literature to Iraqi College Students. Journal of the College of Languages (JCL), (38), 122-135. Retrieved from http://jcolang.uobaghdad.edu.iq/index.php/JCL/article/view/118