Le système comparatif dans Une vie de Maupassant The comparative method in Maupassant's (A woman's Life)
Lubna Abdullah Mohammed

University of Baghdad, College of Languages, Department of French Language
Keywords:
la corrélation syntaxique, système comparatif, la comparaison globale, la comparaison graduée, syntactic correlation, comparative method, global comparison, gradual comparison.
Abstract
La comparaison joue un rôle important dans le roman Une vie de Guy de Maupassant. La supériorité de Maupassant dans le genre littéraire revient au type de sujet qu'il choisit et à sa manière d'écrire ; car il a excellé dans son style simple, bref et naturel. Il a utilisé le procédé de la comparaison à l'entrée de son roman qui correspond au passage d'un lieu clos représenté par le couvent à l'espace ouvert des campagnes Normandes, image de la liberté retrouvée chez son héroïne Jeanne.
 Cette recherche répond aux questions concernant l'importance du système comparatif dans le roman Une vie de Maupassant. Nous avons trouvé que l'auteur l'a utilisé pour ses fonctions variées ; comme la concision qui résulte et facilite la narration des faits, ainsi que la comparaison sert à nous rapprocher du coté sensuel et nous donne un aspect d'ornement contribué infiniment à la beauté du style.
Abstract
The comparative method plays a major role in Maupassant's novel (A woman's Life).This is due to a good theme choice and smooth writing style characterized by simplicity, spontaneity and brevity.
The author uses the comparative method in the introduction of his novel where he compares the monastery's closed world to the open world of the countryside of La Normandie, which represents the dream life of the heroine Jeanne.
The present paper is an attempt to answer the question regarding the importance of applying the comparative method in the novel (A Woman's Life) by Maupassant. The paper stresses the fact that the novelist employs the comparative method in his book for certain features .One of these features is the brief yet far-reaching meaning that brings out the things' sensory sides and adds the text an aesthetic touch that cannot be found in any other style.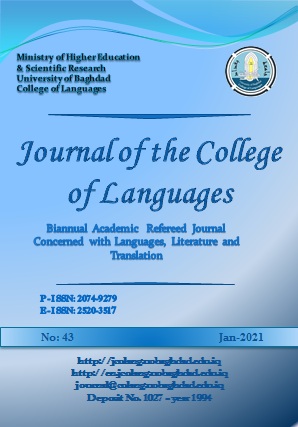 How to Cite
Mohammed, L. (2021). Le système comparatif dans Une vie de Maupassant The comparative method in Maupassant's (A woman's Life). Journal of the College of Languages (JCL) Mağallaẗ Kulliyyaẗ Al-Luġāt, (43), 319-339. Retrieved from https://jcolang.uobaghdad.edu.iq/index.php/JCL/article/view/677