Images of ruin in "Throne" and " Water stream" by Maysaloon Hadi and "War" by Glezio: A Compartive Study
Les images du débris dans "Le trône et le ruisseau " de Maysaloon Hadi et "La guerre" de Le Glézio (étude comparative)
Keywords:
la métamorphose, la modernité, l'homme moderne, la ville ,la littérature comparée
Abstract
Our research comes to shed light on Iraqi literature as literature that arose in special circumstances alongside foreign literature. Using comparative research methods, we chose to highlight two distinguished writers, who have their mark in the world of literature. The first is the Iraqi writer Maysaloun Hadi, who is considered an icon of Iraqi feminist literature, and the second is the French writer Le Clézieu, who won the Nobel in 2008. We will see through the research how the two authors expressed their views of modernity and urbanism. And how each of them separately portrayed the psychological and moral projections that formed the essence of man today. 
Résumé
Notre recherche abord un des points inconnus au monde entier, celui de la littérature irakienne.  En utilisant les procédés de la littérature comparée, nous abordons les œuvres de deux écrivains brillants: Maysloon Hadi et J. M. G. Le Glézio. Les deux ont leur propre regard vis-à-vis la modernité et l'acte humain.    
De fait, Maysaloon Hadi représente l'icône de la littérature féminine irakienne. Quant au deuxième écrivain, c'est Le Glézio, l'écrivain qui remporte le noble en 2008.
Nous allons découvrir ci-dessus les idées ainsi que les visions que les deux portent envers leur société.
References
Hadi, M. (2016). Letrône et le ruisseau. Doha: Katara.
Hussein, S. H. (2004). Maysaloon Hadi: la littérature à l'époque de la crise. Bagdad: La maison d'al-Shourouk.
Haquette, J. (2005). lectures européenes, introduction à la pratique de la littérature comparée,. Paris: Bréal.
La littérature comparée2009Pariséd: Presses Universitaires de France
Le Clézio, J. M. (1970). La guerre. Paris: Gallimard.
Le Clézio, J. M. (1963). Le procès-verbal. Paris: Gallimard.
Le Clézio, j. M. (1971). Les Géants. Paris: Gallimard.
Onimus, J. (1994). Pour lire Le Clézio. Paris: PUF.
Pontalis, J. (1986). l'amour de la haine. (C. F. Gallimard, Éd.) Paris: Essais, N.P.R, Argument.
UNE APPROCHE PSYCHANALYTIQUE D'ALEXIS : https://www.yourcenariana.org/sites/default/files/documents_pdf/07%20Fify%20d%C3%A9f.pdf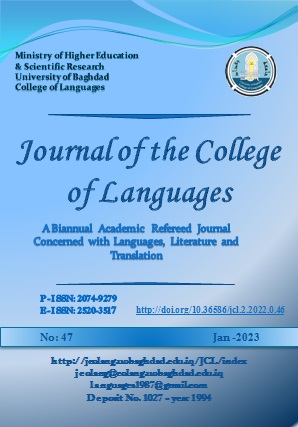 Downloads
How to Cite
Thiban, I. Q. (2023). Images of ruin in "Throne" and " Water stream" by Maysaloon Hadi and "War" by Glezio: A Compartive Study: Les images du débris dans "Le trône et le ruisseau " de Maysaloon Hadi et "La guerre" de Le Glézio (étude comparative). Journal of the College of Languages (JCL), (47), 143–158. https://doi.org/10.36586/jcl.2.2023.0.47.0143
Section
Department of French Language
License
Copyright (c) 2023 Journal of the College of Languages (JCL)
This work is licensed under a Creative Commons Attribution 4.0 International License.