Evaluation of proverb translation in Nahj al-Balagheh based on the theory of Peter Newmark (Dashti, Shahidi and Foladvand)
ارزیابی ترجمه ضرب‌المثل‌ در نهج البلاغه بر اساس نظریه پیتر نیومارک. مطالعۀ موردی: (دشتی، شهیدی و فولادوند)
Abstract
In addition to being a religious book with high human and moral themes, Nahj al-Balagha is considered a mirror of Arab culture and a literary masterpiece at the height of eloquence and eloquence, and because proverbs in the form of short, concrete and understandable phrases for everyone, experiences, thoughts and convey ideas, Imam Ali (AS) used it to facilitate the understanding of various political, social and moral concepts. In this article, we intend to criticize the way Dashti, Shahidi and Foladvand translated it by using Newmark's model due to the importance and cultural reflections of proverbs in understanding the cultural atmosphere governing Nahj al-Balagheh. In his evaluation model, Newmark divides cultural categories into five categories. While focusing on the fourth category, i.e. concepts, the current research has investigated the way of translating proverbs and comparing it with the methods provided by Newmark for the translation of cultural elements.
چکیده
نهج‌البلاغه علاوه بر اینکه کتابی دینی با مضامین والای انسانی و اخلاقی است، آیینه فرهنگ عرب و شاهکاری ادبی در اوج فصاحت و بلاغت به شمار می‌رود و از آن روی که ضرب‌المثل‌ها در قالب عبارتی کوتاه، ملموس و قابل فهم برای همگان، تجربیات، افکار و اندیشه‌ها را انتقال می‌دهند، امام علی (ع) از آن برای تسهیل درک مفاهیم مختلف سیاسی، اجتماعی و اخلاقی بهره بُرده است. در این نوشتار ما برآنیم تا به دلیل اهمیت و بازتاب‌های فرهنگی بسزای ضرب‌المثل‌ها در فهم هر چه بهتر فضای فرهنگی حاکم بر نهج البلاغه، نحوه ترجمه آن توسط دشتی، شهیدی و فولادوند را با بکارگیری الگوی نیومارک به بوته نقد بنشانیم. نیومارک در الگوی ارزیابی خود، مقولات فرهنگی را به پنج دسته‌بندی می‌کند. پژوهش کنونی ضمن تمرکز بر دسته چهارم یعنی مفاهیم به بررسی نحوه ترجمه ضرب‌المثل و تطبیق آن با روش‌های ارائه شده توسط نیومارک برای ترجمه عناصر فرهنگی پرداخته است.
References
Foladvand,M.M.(1387h), Translator of Nahj al-Balagha.Tehran, Ashkzar Publishing.
Shahidi,S.J. (1397h), Translator of Nahj al-Balagha.Tehran, elmi and farhangi Publishing.
Dashti,M. (1396h), Translator of Nahj al-Balagha.Tehran.Qom, Zohoor Publishing.
abdolhamid,I,A,H.(1404) Description of Nahj al-Balagha. Edited by Muhammad
.Abulfazl Ibrahim.Qom,Ayatollah Marashi Najafi's Library
Asgari.J.(1395h) A new approach to translation from Arabic.Tehran, Publications of .Tehran Academic Jihad Organization.
.Khoei,M,H.(2003) Minhaj al-Bara'ah in the description of Nahj al- Beirut, Arab Heritage Revival House
Reza zada,H,Delavari,S.(1397h) Proverb: a collection of 400 Persian proverbs with meaning and concept. Bojnurd:Dar qalam.
Algaravi,M.(1401) Proverbs in Nahj al-Balagha. Qom, Firouzabadi Publications.
Gholamali. A.(1396h) Acknowledgment letter of Nahj al-Balagheh.Tehran, Humanities research and development institute and research institute of Qur'an and Hadith University.
Kramsch,C.(1390h) Language and culture. Translated by Fariba Ghazanfari. Tehran, Amir Kabir Publications.
Makaram Shirazi,N (1385h) The message of Imam Ali (AS) new and comprehensive commentary on Nahj al-Balagha.Tehran, Dar al-Katb al-Islamiya.
Almayadani. A,I,M.(n.d) assembly of proverbs. Research by Mohammad
.Beirut, Dar al-Marafa. Mohiuddin
Niyazi.S.Ghasemi asl ,Z.(1397h) Models of translation evaluation based on
.Tehran, Tehran University Press.Arabic language
Beirut, Al Hilal Library House.Translated by Hassan Ghazaleh Newmark,P(2006) The
whole in translation.
. . Newmark,P .(1390h) A textbook of translation. Translated by Mansour Fahim and Saeed Sabzian. Tehran, Rahnama Publications.
Hashemi minaabad,H.(1398h) Theoretical and experimental discourses in translation. Tehran, Kitab Bahar.
B: magazines
Hajiyan nejad,A. Miroft,S.(1396h) "The degree of translatability of cultural elements and... in the hundred and eighth sermon of Nahj al-Balagheh". Persian Literature Magazine, No. 19, pp. 73-94.
Gorji zade,Z.Khazali,E.Abbas,D.(1399h)" Criticism of the translation of the cultural elements of the book "Remembrance" based on parables and allusions". Quarterly Journal of Translation Studies in Arabic Language and Literature, No. 22, pp. 35-71.
Mirjalili,A, M.Tavakkoliyan,M.(1398h)" Examining the role of proverbs in understanding and beautifying the interpretations of Nahj al-Balagha" Quarterly Journal of Islamic Texts for Literary Studies, No. 13, pp. 35-54.
Niyazi,S.Nasiri,H.(1388h) "The cultural value of translating proverbs and allusions (Arabic-Persian)" Linguistics, first year, volume 1,( Al-Zahra University) pp. 167-184.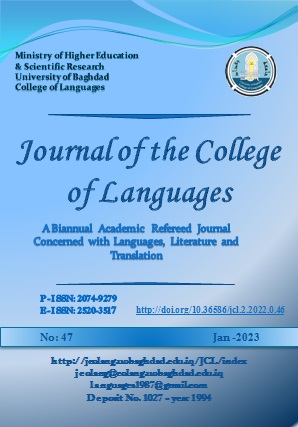 Downloads
How to Cite
niazi, shahriyar, & Mohammadi , S. Z. (2023). Evaluation of proverb translation in Nahj al-Balagheh based on the theory of Peter Newmark (Dashti, Shahidi and Foladvand): ارزیابی ترجمه ضرب‌المثل‌ در نهج البلاغه بر اساس نظریه پیتر نیومارک. مطالعۀ موردی: (دشتی، شهیدی و فولادوند). Journal of the College of Languages (JCL), (47), 261–279. https://doi.org/10.36586/jcl.2.2023.0.47.0261
Section
Department of Persian Language
License
Copyright (c) 2022 Journal of the College of Languages (JCL)
This work is licensed under a Creative Commons Attribution 4.0 International License.