A Pragmatic Analysis of Illocutionary Act in a Selected Presidential Speech on COVID-19
Rimah Muhy Majeed

Ministry of Education,Baghdad, Iraq.
Keywords:
COVID-19, Pragmatics, speech acts, , illocutionary acts, representative speech act.
Abstract
     This paper aims at studying the illocutionary speech acts: direct and indirect to show the most dominant ones in a presidential speech delivered by the USA president. The speech is about the most critical health issue in the world, COVID-19 outbreak.  A descriptive qualitative study was conducted by observing the first speech delivered by president Trump concerning coronavirus outbreak and surveying the illocutionary acts: directive, declarative, commissive, expressive, and representative. Searle's (1985) classification of illocutionary speech acts is adopted in the analysis.
     What are the main types of the illocutionary speech acts performed by Trump in his speech?; Why does Trump perform illocutionary acts?; and What is the purpose behind using the most dominant acts?
     The study is of significant value as it displays how the USA's leader addresses his people linguistically using the illocutionary acts. It helps to understand how language is used to deal with certain actions and how it affects the hearers' viewpoints.
     The study concludes that two types of illocutionary acts  show a significant frequency of occurrence: representatives and declarative. Such result appears due to the purpose behind the discourse under analysis. The other three types of illocutionary acts are of very low frequency. The purpose of the speech and the identity of the figure who delivers it significantly influence the choice of the illocutionary acts. Since the figure who delivers the speech is the president, he has the authority to declare the issue, give instructions concerning the actions that will be taken in the light of this issue and clarify the situation.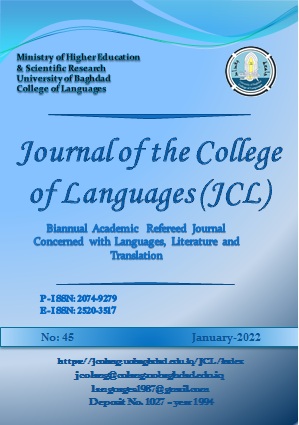 ( Received on 18/4/2021 - Accepted on 13/6/2021 - Published on 2/1/2022)
How to Cite
Majeed, R. (2022). A Pragmatic Analysis of Illocutionary Act in a Selected Presidential Speech on COVID-19. Journal of the College of Languages (JCL), (45), 84-107. https://doi.org/10.36586/jcl.2.2022.0.45.0084