Construction Grammar in Kurdish Language
ڕێزمانی بونیادنان لە زمانی کوردیدا توێژینەوەیەکی هەڵهێنجراو(مستل)ە لەنامەی دکتۆراوە وەرگیراوە
Keywords:
Cognitive, Grammar, Construction, Form, Meaning
Abstract
This research is under the title (Construction Grammar in the Kurdish language), which in turn is an attempt to present grammar and Kurdish grammar from the perspective of the constructive of Cognitive Linguistics. The construction as a term in the Kurdish language base was not recent, as it was discussed in other schools in a specific way from the perspective of language schools, but the subject of construction with a perceived background includes specific purposes, which is how to build the linguistic base by being a template accessible to its speakers, and in the cases of speaking it, not to mention how it is perceived and the level it is familiar with by its speakers. The nominal purpose of the Construction is Unification of form-meaning in a grammatical structural unit. Thus, the Construction Grammar presents the form-meaning, both in one scope. From the point of view of Construction Grammar, the basic units in grammar are the Constructions, all of which are reflected on how it works automatically and perceptively to the minds of its speakers. In other words, how grammar is influenced by linguistic uses and speech situations through which speakers experience grammar as one of their perceived abilities. This means that the speakers' constructed grammar contains the most linguistic knowledge. This is because all linguistic units are seen as symbols (whether Sounds or Sentential), where in turn they form a unit of meaning-form together. The present study is divided into two chapters:
The first Chapter is entitled (Principles of Construction Grammar). This section presents the principles of Construction Grammar in Linguistics and Kurdish language.
In the second Chapter, The basic rules of Construction Grammar are presented with practical examples in Kurdish Language.
          ئەم توێژینەوەیە بەناونیشانی (ڕێزمانی بونیادنان لە زمانی کوردیدا)، هەوڵێکە لە پێناو خستنەڕووی ڕێزمان و ڕێزمانی کوردی لە ڕوانگە و گۆشەنیگای بونیادنراوی زانستی زمانی درکپێکردنەوە. بونیادنان وەک زاراوە لە زمانەوانیی کوردیدا، نوێ نییە و لە قوتابخانەکانی دیکەدا بەجۆری تایبەت و لە ڕوانگەی قوتابخانە زمانەوانییەکانی دیکەوە، باسیلێوەکراوە، بەڵام زاراوەکە بە باگراوەندێکی درکپێکراوەوە، مەبەست و لێکدانەوەی تایبەت لەخۆیدەگرێت. لەم ڕوانگەیەوە بونیادنان، جوتکردنی فۆڕم_واتایە لە یەک بونیادی ڕێزمانیدا. بەمجۆرە ڕێزمانی بونیادنان هەرکام لە فۆڕم_واتای دەربڕاوەکان پێکەوە وەک یەک داڕشتە پێشنیازدەکات. لەڕوانگەی ڕێزمانی بونیادنانەوە، یەکەی بنەڕەتی لە ڕێزماندا، بونیادەکانن، کە ئەمانیش، چۆنیەتی کارکردنە ئۆتۆماتیکییە درکپێکراوەکەی ئاوەزی ئاخێوەران دەنوێنن. بە واتایەکی دیکە، ڕێزمان چۆن دەخرێتە ژێر کاریگەریی بەکارهێنانە زمانییەکان و بارودۆخەکانی ئاخاوتنەوە، کە بەهۆیانەوە ئاخێوەران، ڕێزمانی زمانیش وەک یەکێک لە توانا درکپێکراوەکەیان ئەزموندەکەن. بەمشێوەیە ڕێزمانی بونیادنراوی ئاخێوەران، زۆرترین کۆزانیاریی زمانی لەخۆیدەگرێت. هۆکاری ئەمەیش بۆ ئەوە دەگەڕێتەوە، کە سەرجەمی یەکە زمانییەکان، وەک هێمایەک دەبینرێن(چ هێمای دەنگی بن، یاخود ڕستەیی)، کە جوتکراوی فۆڕم_واتان پێکەوە.
References
Ali, Bakr Omer. (1992). Connecting and Cutting in Kurdish Language. Unpublished MA Thesis: College of Arts. Salahuddin University –Erbil.
Amin, Wrya Omer. (2011). The Letters of Linguistics. Erbil: Aras Publisher.
Fatah, Muhamad Maruf. (2011). Linguistics. Erbil: Haji Hashm Publisher.
Gharib, Nali Adham. (2016). Cognitive Metonymy in Kurdish Language. Unpublished MA Thesis: College of Languages. University of Sulaimani: Sulaimani.
Husen, Shilan Omer. (2021). Applied Linguistics. Sulaimani: Piramerd Publisher.
Mahwi, Muhamad. (2009). Semiotics. Sign, meaning & Interpretation. Sulaimani: Paiwand Publisher.
Mahwi, Muhamad. (2010). Morphology & Component-Interaction. Sulaimani: University of Sulaimani.
Mahwi, Muhamad. Qadr, Karwan Omer. Husen, Shilan Omer. (2010). Verb Structure (Basis and Phenomenon). Sulaimani: University of Sulaimani.
Muheddin, Bazyan Unis. (2013). Relation of Morphological level with Phonological and syntactic levels. Erbil: Mukriany Publisher.
Nabi, Rebwar Ahmad, (2015). Prototype Perspective in Cognitive Semantic in Kurdish Language. Unpublished MA Thesis: Faculty of Arts. Soran University. Soran.
Qadr, Karwan Omer. (2008). Topicalization in Kurdish Sentence. Sulaimani: Kurology Publisher.
Qadr, Karwan Omer, (2017). Concept Arrangement in the Kurdish Language. Journal of University Of Raparin. Forth Year. No: 13. Page: 419-452.
Qadr, Karwan Omer, (2019). Network of Words in Word Grammar. Journal of Cihan University. Volume (3). No: 1. page: 30-57.
Sharif, Abduwahab Kanabi. (2005). Idiom Lexicon in Kurdish Language. Sulaimani: Run Publisher.
Widowssen, H.D. (2008). A beginning of Linguistics. Translated by: Hoshang Faruq. Duhok: Xani Publisher.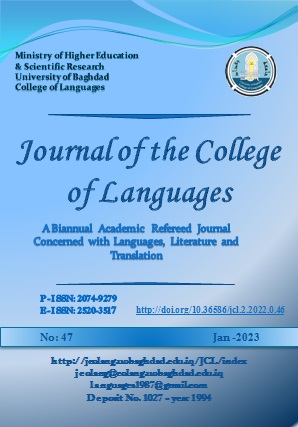 Downloads
How to Cite
Qadir, K. O., & adham gharib, nali. (2023). Construction Grammar in Kurdish Language: ڕێزمانی بونیادنان لە زمانی کوردیدا توێژینەوەیەکی هەڵهێنجراو(مستل)ە لەنامەی دکتۆراوە وەرگیراوە. Journal of the College of Languages (JCL), (47), 347–373. https://doi.org/10.36586/jcl.2.2023.0.47.0347
Section
Department of Kurdish language
License
Copyright (c) 2022 Journal of the College of Languages (JCL)
This work is licensed under a Creative Commons Attribution 4.0 International License.