Turkısh orıgın Words, Suffixes And Proverbs Used in Mosul Arabic Dialect
TÜRKÇEDEN MUSUL AĞZINA GİREN KELİMELER, EKLER VE ATASÖZLERİ
Keywords:
Mosulli dialect, Mosulli proverbs, Turkish suffixes, the influence of the Turkish language, Arapça, Musul ağzı, Musul atasözleri, Türkçe ekler, Türkçenin etkileri.
Abstract
There is a deep-rooted linguistic relationship between Turkish and Arabic, and it is known that the Arabic language influenced the Turkish language, and although the influence of the Turkish language was not as much as the Arabic language, it affected the Arabic dialects, especially the Mosulli dialect, and the influence of the Turkish language on the Mosulli dialect is more of Iraqi or other Arabic dialects. This effect appears in many names, titles, adjectives, village names, and popular proverbs used by Mosulli people. In this study, which focuses on the influence of the Turkish language on the Mosulli dialect, data is collected by identifying Turkish words from dictionaries, different language books, proverbs, terminology, and studies published in Iraq and Turkey. In addition, in order to identify the Turkish words used in the Mosulli dialect, various interviews are conducted with elderly people living in Mosul who speak this dialect. This study concludes with the various forms of Turkish influence on the Mosulli dialect, and among the most important forms of this influence are: the entry of Turkish words into the Mosul dialect while preserving their meaning, the Turkish words that entered with the same pronunciation and difference in meaning, some suffixes that entered the dialect with the same meaning, and many Turkish words used by Mosulli people in their proverbs and many Turkish proverbs.
Özet 
Türkçe ile Arapça arasında köklü bir dilsel ilişki vardır. Arap dilinin Türk dilini etkilediği bilinmektedir. Türkçe, Arapça kadar olmasa da Arap dilini, özellikle Musul ağzını da da etkilemiştir. Birçok dilbilimci, Musul ilinde konuşulan Musul ağzının kökeninin Arap diline ve gramerine dayandığından bahsetmektedir. Ancak Türk dilinin Musul ağzı üzerindeki etkisi diğer Irak veya Arap ağızlarından daha fazladır. Bu etki birçok isim, unvan, sıfat, köy ismi ve Musulluların kullandığı halk atasözlerinde görülmektedir. Türk dilinin Musul ağzı üzerindeki etkisine odaklanan bu çalışmada, Irak ve Türkiye'de yayınlanan sözlüklerden, çeşitli dil kitaplarından, atasözlerinden ve deyimlerden Türkçe kelimeler tespit edilerek veriler toplanmıştır. Ayrıca günlük konuşmada kullanılan Türkçe kelimeleri tespit etmek amacıyla Musul ilinde yaşayan bu ağzı konuşan yaşlılarla çeşitli görüşmeler yapılmıştır. Bu çalışma, Türkçenin Musul ağzına çeşitli etki biçimleri sonucuna varmıştır. Bu etkilerin en önemlileri: Türkçe sözcükler Musul ağzına anlamlarını koruyarak girmesi, Türkçe sözcükler bu ağza aynı telaffuz ve anlam farklılığı ile girmesi, Türkçe eklerin bir kısmı Musul ağzına aynı anlamda girmesi, birçok Türkçe sözcük Musul atasözlerine girmesi, Türk dili ile Musul ağzı arasında ortak olan onlarca atasözü olmasıdır. Çağdaş Arap lehçeleri ve Irak Arap ağzılarının incelenmesi, bu ağız ve lehçelerdeki birçok ortak dil olgusunu tespit etmek ve bunlarda meydana gelen dilsel gelişime ilişkin bilgileri ortaya çıkarmak mümkün olduğu için büyük önem taşımaktadır. Türk dili ile Arap dili arasında uzun süreli bir dilsel ilişki vardır. Türk dili, Arap dilinin yoğun etkisi altında kalmış ve bu dilden birçok kelime almıştır. Bu arada Türk dili de Arap dilini etkilemiş ve ona birçok kelime kazandırmıştır. Bu kelimelerin tespiti için birçok çalışma hazırlanmış, ancak tek bir çalışmada kelime, ek ve atasözlerinin derlenmesi incelenmemiştir. Bu çalışmada Musul ağzında kullanılan Türkçe kelime, ek ve atasözleri tespit edilerek üzerinde durulacaktır. Bu lehçede kullanılan Türkçe kelime ve eklerin anlamları da açıklanacaktır. Daha sonra Musul atasözlerinde geçen Türkçe kelimelerin anlamları açıklanacak ve atasözlerinin Türkçe karşılığı verilecektir. Bu araştırma aynı zamanda bazı Iraklıların, özellikle Musul halkının bu kelimelerin kökenini bilmemesi ve bazılarının bu kelimelerin Farsçaya veya başka dillere ait olduğunu düşünmesinden dolayı Arap kütüphanelerindeki boşluğu doldurmayı amaçlamaktadır.
References
AKSAN, Dogan (2009). Linguistics with Its Main Lines, TDK Publications, Ankara.
AKSOY, Omer (1988). Dictionary of Proverbs and Idioms. 1st Edition, Inklap Publishing House, Istanbul.
EL-ALLEF, Shamil (1985). Turkish Words in Different Arabic Dialects. Doctoral Thesis, Faculty of Letters, Istanbul University.
EL-HANAFI, Jalal (1962). Baghdadi Names. 1st Edition, al-Asad Publishing House, Baghdad.
EL-TA'I, Zennun (2010). Conductive Research İn The History of Mosul. 1st Edition, Ibn Esir Publishing House.
ENIS, Abraham (1995). İn The Arabic Dialect. Encilo. Publishing House, 2nd Edition, Cairo.
HALUK, Şükrü and Others, (2011). Turkish dictionary. 11th Edition, TDK Publications, Ankara.
HAMMADI, Faith (2011). Social Connotations İn Terms of Conductivity Diraset-Tül Musulliye. Magazine, Issue 34.
HENGIRMEN, Mehmet (2006). Basic Turkish Grammar. 5th Edition, Engin Publishing House, Ankara.
KUŞ, Bahri and AKDAĞ, Soner (2012). A New Review on Turkish Suffixes Used in Some Arabic Dialects. Journal of Turkish Studies, Issue 7/1.
RAUF, Leys (2013). The Dictionary of Iraqi Words And Terms. 1st Edition. Melhem Publishing House, Dubai.
YILDIZ, Musa (2006), The Interaction Between Turkish and Arabic, Nüsha Magazine, Year: VI, Issue: 23.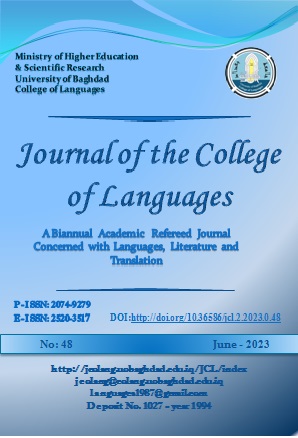 Downloads
How to Cite
Fathi, A. A. (2023). Turkısh orıgın Words, Suffixes And Proverbs Used in Mosul Arabic Dialect: TÜRKÇEDEN MUSUL AĞZINA GİREN KELİMELER, EKLER VE ATASÖZLERİ. Journal of the College of Languages (JCL), (48), 150–167. https://doi.org/10.36586/jcl.2.2023.0.48.0150
Section
Department of Turkish Language
License
Copyright (c) 2023 Journal of the College of Languages (JCL)
This work is licensed under a Creative Commons Attribution 4.0 International License.