Dialogue Technique In (Agri bn Ka) Novel of (Saeed Nakam)
تەکنیکى دیالۆگ لە ڕۆمانى (ئاگرى بن کا)ى سەعید ناکامدا
Keywords:
Technique, Dialogue, Novel, Agri bn Ka, and Novelist (Saeed Nakam), تەکنیک، دیالۆگ، ڕۆمان، ئاگرى بن کا، ڕۆماننوس (سەعید ناکام).
Abstract
Abstract
This research is an attempt to analyze the dialogue techniques in (Agri bn Ka) novel by (Saeed Nakam) and present the importance of these techniques in exposing the characters. This is because dialogue is one of the main and foundational columns and cores of the novel events through which the characters' roles will be revealed while communicating and addressing one another. Despite this, dialogue represents the thinking method, way of living, educational level, open-mindedness, and maturity of the novel characters. Therefore, the dialogue technique in (Agri bn Ka) novel has been made the title of this research. Further, this research tries to present the novelist's dominance and power in the dialogues and it is by the characters' dialogues that (Saeed Nakam) is able to convey his political and social messages. This research is divided into two sections: the first section is theoretical one and deals with the definitions, history, language and significance of dialogue. While the second section is practical and application to the selected novel and analyzes the types and methods of the novel dialogues. Finally, the most important findings and conclusions as well as the consulted sources are provided.
پوختەى توێژینەوە
  لەم توێژینەوەیەدا هەوڵدراوە (تەکنیکەکانى دیالۆگ لە ڕۆمانى (ئاگرى بن کا)ى (سەعید ناکام) شیکار بکرێت و گرنگییەکەى لە خستنەڕووى کەسایەتییەکان بەدەربخات، چونکە دیالۆگ یەکێکە لە کۆڵەکە سەرەکى و بنچینەییەکانى چنینى ڕووداوەکان لە ڕۆماندا، کە لەمیانییەوە ڕۆڵى کەسایەتییەکان لە ساتى گفتوگۆکردنى نێوانیانەوە بەدەر دەکەوێت، سەرەراى ئەمەش دیالۆگ شێوازى بیرکردنەوەو چۆنیيەتى ژیان و ئاستى ڕۆشنبیریی و تێگەیشتوویی و پێگەیشتوویی کەسایەتییەکان لە نێو ڕۆماندا دەنوێنێت، بۆیە تەکنیکى دیالۆگ لە ڕۆمانى (ئاگرى بن کا)دا کراوە بە ناونیشانى توێژینەوەکە، بۆ ئەوەى باڵادەستى ڕۆماننوس لە چینینى دیالۆگ لە ڕۆمانەکەیدا بخرێتەڕوو، لەگەل ئەمەشدا (سەعید ناکام) پەیامە سیاسى و کۆمەڵایەتییەکان لە گفتوگۆى نێوان کەسایەتییەکانى نێو ڕۆمانەکەیەوە خستۆتەڕوو، بۆ ئەم مەبەستە توێژینەکە دوو بەشى لە خۆ گرتووە، بەشێکى تایبەت کراوە بە لایەنى تیۆرى سەبارەت بە پێناسەو مێژوو و زمان و گرنگى دیالۆگ، بەشەکەى تریشیان لایەنى پڕاکتیکى ڕۆمانەکەیە، بۆ ئەوەى جۆرو شێوازەکانى دیالۆگ لە ڕۆمانەکەدا شیکار بکەین، لە کۆتاییدا گرنگترین ئەنجامەکان لەگەڵ ئەو سەرچاوانەى ئەم توێژینەوەیەیان پێکهێناوە خراونەتەڕوو.
کلیلە وشە: تەکنیک، دیالۆگ، ڕۆمان، ئاگرى بن کا، ڕۆماننوس (سەعید ناکام).
References
1 Kurdish References
1.1 Book
Alwani, Najm Khalid (D). (2006) Dialogue Techniques in Some Modern Kurdish Short Stories.Shafaq Culture institute. Kirkuk.
Alwani Najm Khalid (Ph.D.). (2017) Theories of Sociological Novels . Salahaddin University Printing House. Erbil.
Alwani, Najm (Ph.D.) (2018) . Globalization in (Chime) by Mahabad Qaradaghe . First Edition Salahaddin University Printing House.
Haji, sjonger Qadir Sheikh Mohammed (2009).
Narrative Structure in Ahmadi Khani's Mam en Zeen and Bakhtiar Ali's city of White Musician . First Edition . Khani Printing House. Duhok.
Saeed, Jalal Anwar (D) (2013) Discourse in Kurdish Novels if Kirmanje Khwaru. Kamal Printing House.
Muhammed, Meran Jalal(2009). Structure of events in Kurdish Novels. Ranj Printing House Sulaimani .
Mustafa, Rezan Osman (2010) Types of Structure in Novels of Southern Kurdish. (1985-1990). first Edition.Academy Printing House, Erbil.
Munif, Abdulrahman (2006) Shedding Light on Novel. Translated by Sheren k. First Edition.Sardam Publishing House. Sulaimani.
Nakam, Saeed. (1999) Fire beneath Hay. Printing of Ministry of culture . Erbil .
2 Arabic References
2.1 Books
Awshan , Ali Ait. (1983). Didactics of Expression and Communication. House of Aby Fraq for publishing. Alrybat
.
Bakhtin, Mikhail.Analyzing(The Resurrection) by Tolstoy . Translated by Muhammad Berrada. House of Public Affairs. Bagdad.
Bahrawi, Hassan. (1995). Narratological Structure of space, time, and Character. First Edition . Arabic center Culture . Dar Albaytha . Beirut.
Todorov, Tzvetan. (1992). Discourse Structure A Study in Mikhail Bakhtin.Translated by : Fakhry Saleh. A house of Culture Affairs . Bagdad.
Alzujajy , Baqer Jawad. (1980). Iraqi Novels and Village Issues . Al-Rasheed Publishing House. Freedom House for publishing . Bagdad.
Al-Zamakhshari, Abu Al-Qasim Jarallah Mahmoud bin Omar bin Ahmed. (1998). basis Of Rhetoric .A House for Scientific Books Beirut-Libanon
Swaidan, Sami. (2006). Mazing in Arabic Novels. House of Arts. First Edition . Beirut-Libanon.
Abdel Salam, Fateh (1999). Narrative discourse its Techniques and narratives relations. First Edition .Arabic Institution for publishing and Studies. Beirut.
Mustafa . Faeq (d). (2008). The Magic of Narration Studies of Novel, Short Story, Verse Series . First edition . Arabkha Publishing . Kirkuk.
Najm, Muhammad Yusuf (1959). Art of Story . Third Edition . Beiroet Printing House. Beirut.
2.2 Academic Thesis
Ahmed, Zawy. (2015). Structural basis on Novels of (Muhammad Muflah).Dissertation thesis . College of Arts. Oran University.
Algeria republic.
Al-Ani, Shuja Muslim Daghim. (1987). Structural Arts in Arabic Novels in Iraq.Ph.D. Thesis. College of Arts. Bagdad University
2.3 The Glossary
Ibn al-Manzur, Abu al-Fadl Jamaldin Muhammad bin Makram bin Ali al-Ansari. (1997). Arabic language. Second Volume. Dar Sader. Beirut.
Prins, Gerald. (2003). Narrative Dictionary. Translated by : Sayed Imam. First edition.Merit House.
Alloush, Said. (1985). Lexicon of Modern Terms. First Edition .Lebanese house for Printing. Beirut.
Abdelnour, Jabbour. (1984). Art lexicon . Scientific house . Beirut-Libanon.
3 Persian References
Sadeghi, Jamal Mir. (1385) Elements of the epic . Sakhn Publishing House Chapter Five Bahman Printing House Tehran.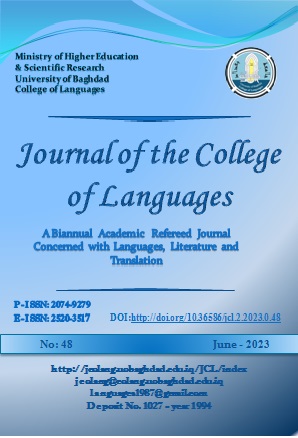 Downloads
How to Cite
Azeez, Z. A.-S. (2023). Dialogue Technique In (Agri bn Ka) Novel of (Saeed Nakam): تەکنیکى دیالۆگ لە ڕۆمانى (ئاگرى بن کا)ى سەعید ناکامدا. Journal of the College of Languages (JCL), (48), 283–305. https://doi.org/10.36586/jcl.2.2023.0.48.0285
Section
Department of Kurdish language
License
Copyright (c) 2023 Journal of the College of Languages (JCL)
This work is licensed under a Creative Commons Attribution 4.0 International License.