Chomsky's generative theory and its use in legal translation (Models between Arabic and Persian)
Keywords:
Linguistics, transformational generative theory, legal translation, Noam Chomsky, applied performance.
Abstract
        The research deals with the scientific and academic necessity in the field of contemporary linguistic research and translation studies called for new and advanced scientific theories in line with technological developments and modern information in the world, using different letters between the fields of science and knowledge, and thus resulted in new research methods with the linguistic phenomenon to vary its communicative functions. the overview, theories, the appearance of the formula in its wide form and the legal translation in a narrower form.
        Research aims: discuss the most important content of legal language and its translation methods, equivalence and translation equivalence, translation transformations such as rearranging, addition, deletion and replacement, legal linguistic levels, including the level of legal discourse, and its relationship to other legal linguistic levels. The research adopts the qualitative field-experimental approach by benefiting from the researcher's experiences in addition to studying a number of official translations of documents, documents, legal texts and contracts between the Arabic and Persian languages. The course of the study should be from the general to the specific, i.e. a review of the general translation, then the sworn translation, down to the problems associated with it.
References
Agha Golzadeh, F., et al (2010). Linguistic analysis of court rulings based on the creative model: an approach to legal linguistics. Humanities and Cultural Studies, 1, 11-27.
Amina, Sh. (2016). The problem of translating the legal text. Maqalid, Kasdi Merbah Ouargla University 10,127-134
Al Bustanji, J. M. (2020). A reading of transformational generative theory. Dowat magazine,25,92-98
Al-Husseini, S. (2010). Study in translation and localization. Cairo: Egyptian and Arab Translators and Linguists Association.
Al-Didawi, m. (1992). Translation science between theory and practice. Tunisia: Dar Al Maaref.
Al-Rajhi, A. (1988). Arabic Grammar and Modern Lesson, Curriculum Research (I 1). (DM): Al-Intisar Press.
Al-Shayeb, F. h. (1999). Lectures in Linguistics (I 1). Amman: The World of Modern Books.
Al-Taleqani, M. h. (2018). Dialectical speech between the linguistics of the text and the deliberative meaning. Journal of the Islamic University College,45,433-448.
Al-Atabi, a. K. (2020). A vision in obstetrics. Journal of the College of Education, 6,28-53.
Amayra, A. (1984). On the grammar of language and its structures (I 1). Lebanon: Knowledge World for Publishing and Distribution.
Banani, M. s. (1985). Linguistic Schools in the Arab Heritage (1st Edition). Algeria: Diwan of University Press.
Bouhlassa, S. (2012). The Importance of Charles Fillmore's Case Rules Theory in Translating Literary Texts "Mounir Baalbaki" and "Dar Osama" translated Charles Dickens' Tale of Two Cities as an example. Constantine, Algeria: Mentouri University.
Boutrafia, L. (2009). The cultural dimension in legal translation: Algerian family law as a model. Oran: University of Oran.
Chomsky, N. (1985). Aspects of grammar theory (1st ed.). (M. J. Baqer, translator) Mosul: University Press.
Chomsky, N. (1993). Linguistic knowledge: its nature, origins and uses (I 1). (M. Fitaih, translator) Cairo: Arab Thought House.
Grout, Dr. a. (1993). Law and Translation.
habibi, h. (1382 St.). Some linguistic features and examples of administrative and bureaucratic legal terms in three important laws of the first parliament in the constitutional era. Namah Farhankestan magazine , 4(5)14-20 .
J, D., and Higgins E, H. a. (2002). Reflection on Arabic translation, a course in methods of translation from Arabic into English. London: Hervey S on Higgins ai.
Lyons, c. (1985). Chomsky's Linguistic Theory (1st ed.). (H. Khalil, translator) University Knowledge House.
Miqdadi, h. M. (2020). Chomsky's transformational generative theory. Dhi Qar Literatures Magazine,32,149-166.
Najadat, n. M. (2015). Generative transformational theory from the perspective of linguistic, grammatical and Arabic studies. Journal of the Faculty of Dar Al Uloom,86,177-205.
Roshen, B., and Behbudi, S. (2009). Describe the structural and lexical features of Persian civil law texts. Humanities and Cultural Studies, 9,105-123.
Ricor, b. (2008). About translation. (H. Khumri, translator) Beirut: Arab House of Sciences.
Sibawayh, A. B. (1988). the book. (A. A. Harun, transcribing) Cairo: Al-Khanji.
Sharma, F. (2015). The importance of addition and deletion in translation. International Translation Journal,27,6-15.
Shamli, N., and Hassan Olayan, S. (2018). Transformation by rank in Sahifa al-Sajjadiya in the light of Chomsky's Generative Transformational Theory. Journal of the Islamic University College, 45,28-33.
Тaber.، Е. N). 1969). The Theory and Practice of Translation. Leiden.
Vezinpour, N (1367 st.). Bur Samand Sakhn. Tehran: Foroughi.
Yaqoot, M. s. (1985). Grammatical appreciation issues between the ancients and the moderns (I 1). Egypt: Dar al-Maarif.
Zakaria, M. (1984). Topics in linguistic theory and language education. Beirut: University Foundation for Studies and Publishing.
Zakaria, M. (1986). Linguistics (modern linguistics principles and flags). Beirut: The University Foundation for Studies.
websites:
Suleiman, A. a. (2022,). Legal translation - its basic rules and techniques. (M.A. Specializations) Research and Studies Center: (p.1)
https://www.atinternational.org/forums/showthread.php?t=8625
Sawan, F. M. (2018). History of translation theory in the twentieth century
https://academiworld.org/history-of-translation-theory_16
Abed Khorasani, m. (1393 St., 1 20). Dar Al-Tarjamah and Bicheneh Histori Ann.
https://www.zebhi.ir/print.php?ToDo=ShowArticles&AID=106038 (p.1)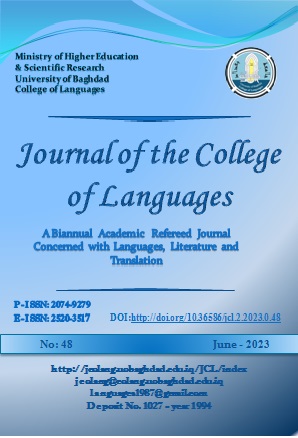 Downloads
How to Cite
Poshtkouhi, A. T., r Al Attabi, R. M. . J., & Aldabagh, I. H. (2023). Chomsky's generative theory and its use in legal translation (Models between Arabic and Persian). Journal of the College of Languages (JCL), (48), 201–232. https://doi.org/10.36586/jcl.2.2023.0.48.0204
Section
Department of Persian Language
License
Copyright (c) 2023 Journal of the College of Languages (JCL)
This work is licensed under a Creative Commons Attribution 4.0 International License.