گــام¬های عـملی یک ترجــمهء حرفه¬ای Practical Steps For Literal Translation
Mahdi Ahmed Hussen

Presidecy of Diyala University Administrative Affairs Seection
Keywords:
گام¬های¬عملی، ترجمه حرفه¬ای،انتخاب كتاب،ویرایش،عنوان كتاب., Practical methods, professional translation, book selection, book review, title translation.
Abstract
پژوهش حاضر که با عنوان گام­های عملی یک ترجمهء حرفه­­­­­­­­ای يك تلاش فروتنانه به دنبال بررسی وتحلیل گام­های عملی ترجمه حرفه­ای است، كه هر مترجم برای ارائه یک ترجمه خوب و درست از زبان مبدأ به زبان مقصد باید ان را دنبال کند.
        پژوهش از شش مطلب تشکیل یافته است, كه مجموع آن گام­های عملی یک ترجمهء حرفه­ای به شمار می روند .از میان مهمترین نتایجی که پژوهشگر به آن رسیده: ترجمه هم مانند هر فعالیت ادبی باید طبق مرحله­هایی یا با گام­های مرتب ویکی پس از دیگری انجام شود وگرنه کار کم اهمیت خواهد بود, و گام­های عملی ترجمه حرفه­ای عبارتنداز: انتخاب کتاب،گرفتن اجازه از صاحب اثر،شروع به ترجمهء متن اثر،ترجمهء عنوان کتاب ، ویرایش وانتخاب ناشر.
Abstract
The present paper, practical methods of professional translation, discusses the most important methods to achieve an accurate effective translation from the source language text  to the equivalent target language text.
The present study suggests that practical translation like any literary activity is of six main stages that follow sequential order to achieve an accurate translation: (choosing the foreign text to be translated, the author of the text permission, the text translation, considering the title contextual meaning, reviewing the text translation, and finally finding a good publisher).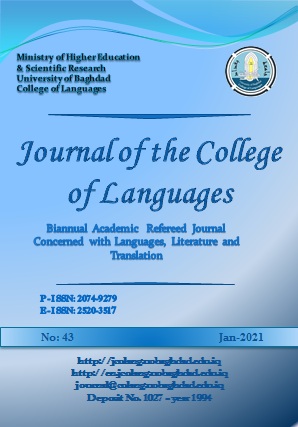 How to Cite
Hussen, M. (2021). گــام¬های عـملی یک ترجــمهء حرفه¬ای Practical Steps For Literal Translation. Journal of the College of Languages (JCL) Mağallaẗ Kulliyyaẗ Al-Luġāt, (43), 358-375. https://doi.org/10.36586//jcl.2.2021.0.43.0358