הכנפיים שנשברו דמות האישה הערבית הנוצרית ברומן " חוצוצרה בוואדי " של סמי מיכאל לעומת דמותה ב " יסמין " של אלי עמיר The Broken Wings: The character of the Arab Christian |Woman in Sami Michael's Novel "Trumpet in the Wadi" versus "Jasmine" by Eli Amir
Ali Mohammed Rashed

University of Baghdad - Faculty of Languages - Department of Hebrew Language
Keywords:
הדמות הערבית בספרות העברית , סמי מיכאל , אלי עמיר, חצוצרב בוואדי, יסמין., The Arabic character in Hebrew literature, Sami Michael, Eli Amir, Trumpet in the Wadi, Jasmine.
Abstract
סמי מיכאל ואילי עמיר - שני סופרים ישראליים ילידי עיראק ובני אותו דור (סמי מכאיל נולד בבגדד בשנת 1926 ואלי עמיר ב-1937). כתבו ברומניהם, בין השאר, על המזרחיות ועל האהבה ונשיות.ושניהם חיו חיים פרועים, מוחצנים. לא נרתעו מהתנסות בכל דבר חדש שנקרה בדרכם, מרדו במוסכמות ונהג באופן פרובוקטיבי, הם נהנו מהזעזוע והתדהמה, שהם מעוררים סביבם. מנסים למצוא את מקומם במסגרות משפחתיות שונות, לכן הם בחרו להציג שתי גבורות ערביות .ושתי הגיבורות הן בחורות נוצריות ערביות והן והדובר ברומן "יסמין" הוא דובר- בגוף ראשון , ב"חצוצרה בוואדי" הדוברת היא הודא הגיבורת , אך ביסמין הדובר הוא נורי – אלי עצמו. שניהם עצמאיים ולשניהם יש תחביב שהם משקיעים בו רבות; הקריאה. המשפחות של שתי הגיבורים עוברות שינויים חברתיים במהלך העלילה, ובשעת הצורך שניהן עובדות  לממן צרכים שהמשפחה אינה יכולה לממן. ברומנם במחקר זה ואתעניין בספרם של סמי מיכאל: "חצוצרה בוואדי"" (2008) ובין ספרו של אלי עמיר: יסמין( 2005). מחקר זה מבקש לבדוק כיצד מצטיירת דמותה של האישה הערבית הנוצרית בשני רומנים מפורסמים של השניים . תחילה אתייחס למקומו של הערבי בספרות הישראלית ,  ואציג את תמצית שני הרמנים עם חיי הסופרים, ואדון בדמות האישה ודרכי איפיונה בהסתמך על ספרות תיאורטית.     
בפרק השיני אתעניין לדמותיוהן של הודא ויסמין כמייצגות את התקופה, ולבחון את הקווים הבולטים בדרכי עיצובה. ,ואשווה בין הדמות הערבית הנוצרית החוזרת בשני הרומנים, ואבדוק מהי עמדת המוצא שלהם, כיצד הם מתארים את שתי הדמויות ובמה הם בוחרים להתמקד.מפאת תחומו המצומצם של הדיון, העיסוק בנושא יתמקד במבחר דוגמאות נבחרים מן שני הרומנים.
Abstract
      Sami Michael and Eli Amir - two Israeli writers born in Iraq and of the same generation (Sami Makhail was born in Baghdad in 1926 and Eli Amir in 1937). They wrote in their novels, among other things, about Orientalism , love and femininity. They both lived wild, extroverted lives. They did not shy away from experiencing anything new that came their way, rebelled against conventions and acted provocatively; they enjoyed the shock and amazement that evoked around them. While trying to find their place in different family settings, they chose to present two Arab Christian heroines. The narrator in Jasmine is the speaker Noori-Eli himself. While the narrator of "Trumpet in the Wadi" is Huda the heroine herself. Both are independent and both have a hobby in which they invest a lot; which is reading.
 The families of the two protagonists undergo social changes during the plot, and when necessary they both work to provide the family needs. First, the study sheds light on the importance of the Arabs in Israeli literature as reflected in Sami Michael's book: "Trumpet in the Wadi" "(2008) and Eli Amir's: Jasmine (2005).  It, also, provides summaries of the two novels and discusses the character of the Arabic Christian woman as described in both novels.
Chapter two debates the characters of Huda and Jasmine and similarities of the two in representing their time. The chapter also compares the recurring image of the Christian Arab character in the two novels, the concept of racism, characters description, as well as the subjects discussed throughout the books with an number of citation taken from the book.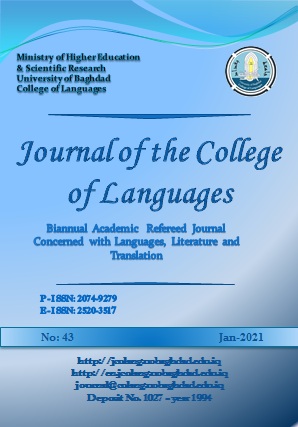 How to Cite
Rashed, A. (2021). הכנפיים שנשברו דמות האישה הערבית הנוצרית ברומן " חוצוצרה בוואדי " של סמי מיכאל לעומת דמותה ב " יסמין " של אלי עמיר The Broken Wings: The character of the Arab Christian |Woman in Sami Michael's Novel "Trumpet in the Wadi" versus "Jasmine" by Eli Amir. Journal of the College of Languages (JCL) Mağallaẗ Kulliyyaẗ Al-Luġāt, (43), 376-401. Retrieved from https://jcolang.uobaghdad.edu.iq/index.php/JCL/article/view/680