Pragmatic Analysis of the Translation of English Culture-Specific Proverbs into Arabic
Abdali H.Shihan Al-Saidi

Thiqar University- Iraq
Keywords:
CSPs, culture, translation, translation strategy
Abstract
Translating culture-specific proverbs (CSPs) is a challenging task since they often occur in a peculiar context. Further, CSPs are intended to imply meanings that extend far beyond the literal meaning of such a kind of proverbs. As far as English and Arabic are concerned, translators often encounter problems in translating CSPs due to cultural differences between the source language(SL) and the target language (TL) as well as what seems to be the lack of equivalence for some CSPs.
In view of this, the present study aims at investigating the translation of CSPs in three English-Arabic dictionaries of proverbs, namely Dictionary of Common English Proverbs Translated and Explained (2004), One thousand and One English Proverbs Translated into Arabic (2008) and Dictionary of Wise Sayings and Proverbs (2009). Data of CSPs, in the aforementioned dictionaries, are analyzed as a case study. Specifically, the study attempts to examine whether CSPs are well translated and whether the translation strategies utilized have reflected the ST intended meaning (IM) and the embedded cultural implications as well.  Out of the total data on CSPs, only ten examples are selected as representative samples for analysis. For the purpose of carrying out a meaningful analysis of the translation of CSPs, an eclectic model is adapted. It consists of Baker's (2011) cultural substitution strategy (CSS) in combination with Venuti's (2008) domestication strategy (DS) and Nida's (1964/1975) Functional (closest natural) equivalent as well. This proposed eclectic model was considered as the main theoretical framework of the study.  
Findings of the study revealed that the selected data have often shown low levels of adequacy in terms of expressing the meanings and pragmatic functions of the ST in the TT. Specifically, the selected translators provide inadequate translations of the cultural implications of the ST in the TT. In addition, this study concludes that translators can successfully render the intended meanings and the cultural elements of CSPs had they been not only bilingual but also bicultural since Arabic, particularly the Qur'an, Hadith, and the Arabic literature, is rich with CSPs  that cover issues corresponding to those found in English proverbs. It is worth noting that even if the TL equivalent exists, it would not necessarily accomplish complete equivalence since the ways of expressing meaning and the usage of proverbs differ among languages.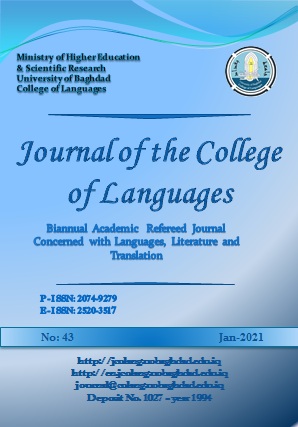 How to Cite
Al-Saidi, A. (2021). Pragmatic Analysis of the Translation of English Culture-Specific Proverbs into Arabic. Journal of the College of Languages (JCL) Mağallaẗ Kulliyyaẗ Al-Luġāt, (43), 30-63. https://doi.org/10.36586//jcl.2.2021.0.43.0030